Dear valued customers,
Online transactions have been part of the norm especially since some establishments observe minimal contact these days. A lot of opportunists take advantage of these platforms as online is an easy and free channel for everyone to use.
With that, please beware of several fraudulent offers and misleading scams disguising as "abensonHOME". These may come in the form of a text message, email, on-ground visits, or fake accounts claiming to be abensonHOME on social media or e-commerce platforms.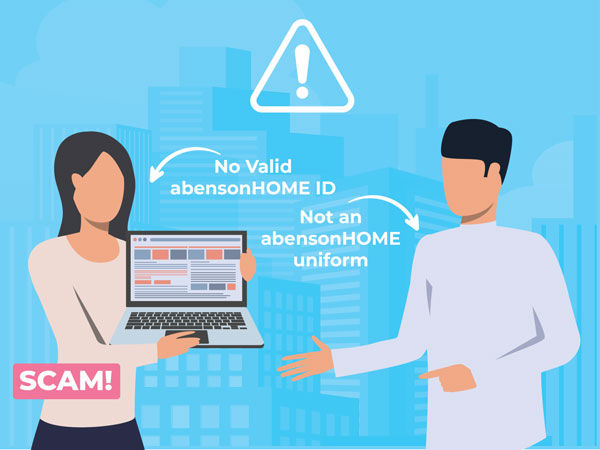 Types of Scams
1. E-Commerce Platforms
We currently do not sell on Lazada and Shopee. abensonHOME is not affiliated with any accounts on any e-commerce platforms. Only shop with the official www.abensonHOME.com online site.
✔ How to verify: Shop only through our official website at www.abensonHOME.com
2. House / Office Visits
Beware of people pretending to be an abensonHOME representative offering or promoting products via house-to-house or office visits.
✔ How to verify: Our official social channels are Facebook: @abensonHOME, Instagram: @abensonHOME, and YouTube: Abenson Studio.
3. Fake Viber Account
Beware of accounts and sellers posing as abensonHOME using Viber.
✔ How to verify: Shop only via our official Viber Community "abensonHOME Viber Official" and from our 50+ stores nationwide.
4. Unexpected Raffle and Giveaways
Beware of fake raffle and giveaway scams by individuals or accounts posing as abensonHOME / abensonHOME.com on SMS and digital platforms. In this scam, you might receive a text message that appears to be from abensonHOME and tells you that you won a prize and includes an unusual link.
✔ How to verify: Any ongoing raffle or giveaway will be posted on our official channels: www.abensonHOME.com Viber: "abensonHOME Viber Official" Facebook: facebook.com/abensonHOME, and Instagram: @abensonHOME.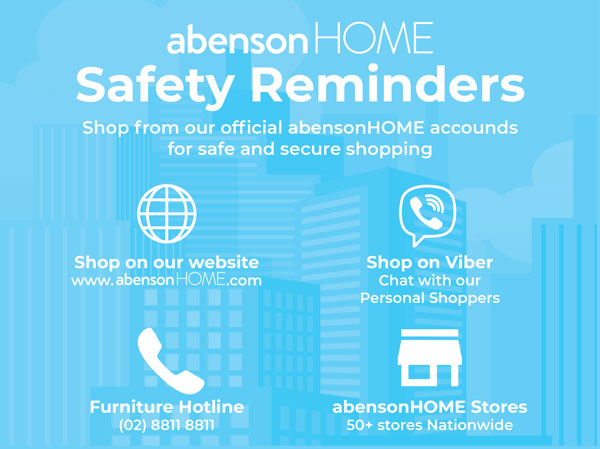 How to Protect Yourself
Shop from official abensonHOME channels for safe and secure shopping:
We urge our customers to practice caution and vigilance to always check if the channel they are shopping at is legitimate and trusted.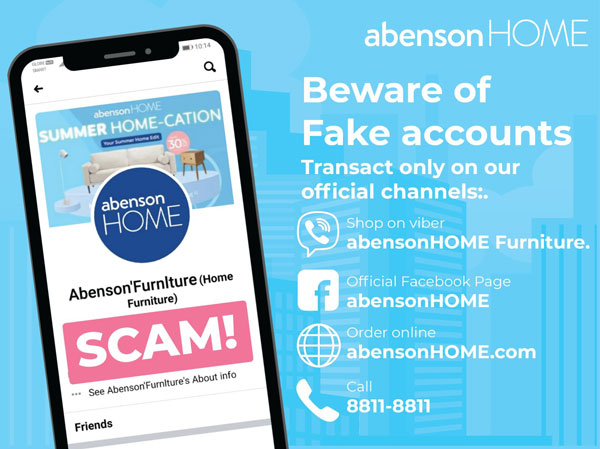 In addition, authorized abensonHOME representatives will never ask for your personal details, banking information, or request you to settle payments outside of our official payment methods. As a precaution, do not respond or entertain unsolicited communications from scammers and report them to authorities if needed.
To report a suspected scam, kindly email us at shop@abenson.com with screenshots and links for us to investigate further.
Happy safe shopping and stay safe, everyone!